A couple friends and I have been on the house search lately. We've probably looked at about 20 houses at this point, all in the Saginaw and the Bay City area. Of the Saginaw houses, a couple have been on Saginaw's east side. For those unfamiliar with Saginaw, Saginaw is a city that frequently graces the FBI's top 10 most dangerous cities in America with several appearances in the top 5 in this decade. The majority of crimes response for that rank happen on the east side. With that said I am super intrigued by the east side.
Some people might not know, but I have owned a house on the east side for about 2 years now. It's been a good rental property because the value is so low any rent equates to an abnormally large return on investment. When I first purchased the house those were some of my first experiences on the east side. It's such an interesting place. In some spots it looks just like a normal safe area. Then in others you see half burnt houses, overgrown vacant lots, and boarded up blocks. An interesting fact is that there is not a single full blown grocery store on the east side. There is no Meijer. No Walmart. No Kroger. The closest thing you'll find is a Dollar General with no name dollar stores being even more frequent.
Driving on East Gennesse one would see a 10 story apartment complex and right across the street acres of abandoned land former home of the Saginaw County Fair. Due to crime and the general decline of the area the fair was moved in 2002. Left is the unkempt Saginaw Raceway. The raceway was popular before casinos were legalized in Michigan in the late 80s. With competition from casinos horse race betting fell out of popularity. Yet the grandstand remains. How there is a 10 story apartment complex across the road with no grocery stores on that side of the river is another mystery to me. I have so many economic questions raised from things that seem like inconsistencies like the situation above.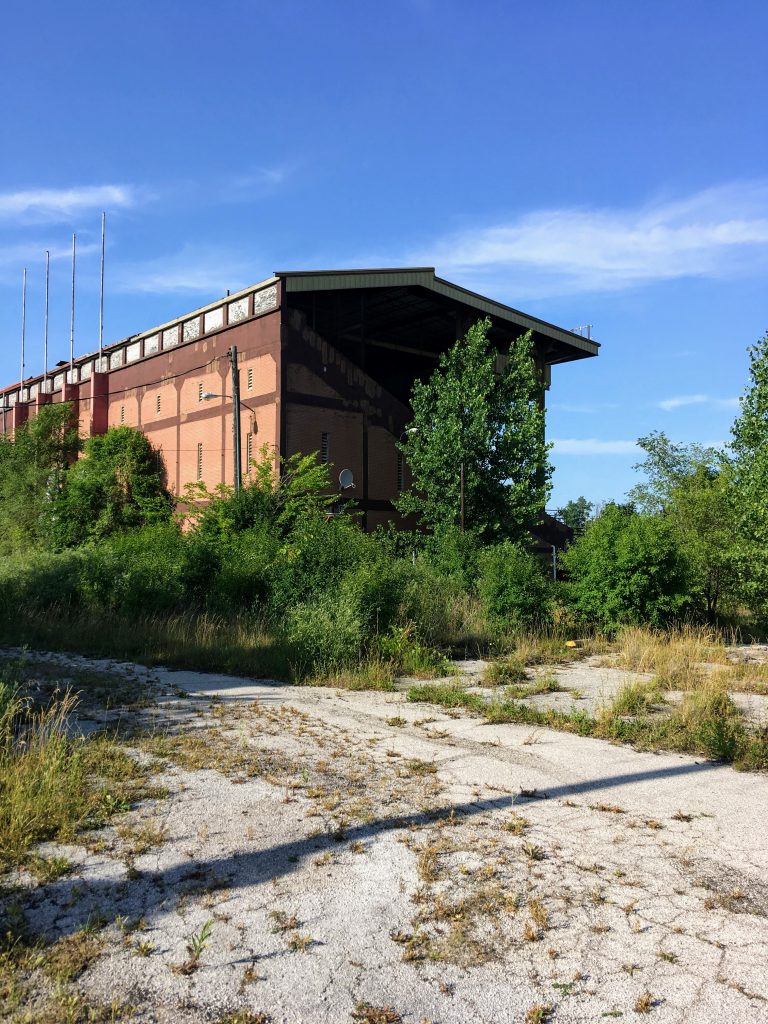 My photographer friend Kaitlyn wanted to practice shooting some more rustic, urban scenes so she turned to me to find a place. I decided to check out that abandoned raceway.
The structure was in surprisingly good shape. In the stadium we met two other people who were into urban exploration. They were doing some pretty cool graffiti. It really wasn't that hard to get in. There were giant holes in the fences everywhere. I reckon it is probably a lot for the police to constantly patrol and repair the area. Really it provides the kids something interesting to explore and hopefully sparks an interest in history and how this happened.
It was a fun little exploration and it really peaked my interest even more in the east side. Not once did I feel unsafe. Even as we left we saw a bunch of young guys playing around in the old fair grounds. It really is a shame to see something that is so cool just completely neglected, but I'm taking it as a cautionary tale and maybe more optimistically as a symbol of hope.
Next post I'll talk a little about some big commitments I'm making in my life. A little soon after that I'll be headed out West to see some National Parks in the Washington, Oregon, California area. And who knows maybe there will be a post highlighting my move into a house on the east side (not if my roommates have anything to say about it)!