In a surprising development on Saturday afternoon I found out that Thai Fight tickets were free! I skipped out on afternoon training and headed to the show with about 10 people from the gym. Now I know you're thinking, what's Thai Fight? The best way I can explain it is that it's a cross between UFC and the NBA All-Star game.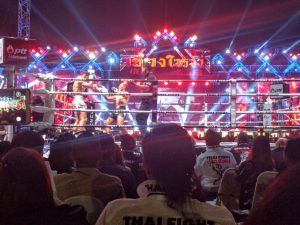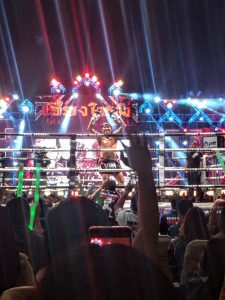 Obviously, it relates to the UFC because it is fighting, but it relates to the NBA All-Star game because it has the biggest names in the sport of Muay Thai. Often their matches don't really count for much, just like the All-Star game.
In the photos above you can see Saenchai. He is regarded as one of the best fighters of all time. His record, after the win I witnessed, is 308-23. He has numerous accolades as champion at multiple weights at top stadiums in Thailand as well as several world titles. Now, at age 37, he more or less fights lower class, inexperienced opponents for show.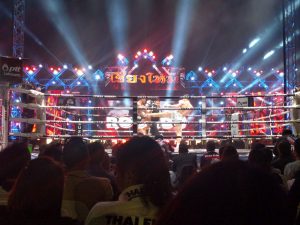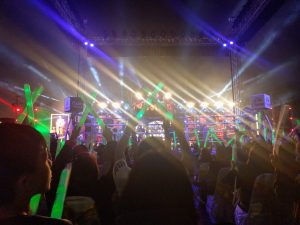 Thai Fight, like the UFC, also has legitimate match-ups and potential for some good fights like a couple I saw Saturday night. However, every single fight, at least at this specific event, was a Thai versus a foreigner.  The foreigner was almost always supposed to lose. Only in one fight, the last of the night, did a 19 year old Ukrainian kid upset one of the popular Thai fighters.
This was actually the first time Thai Fight has happened in Chiang Mai. Normally Thai Fight takes place in Bangkok when it is in Thailand. Like the UFC, Thai Fight takes place often in different cities and venues. Recently there has been Thai Fight Barcelona, London, Vietnam, Myanmar, and Cambodia.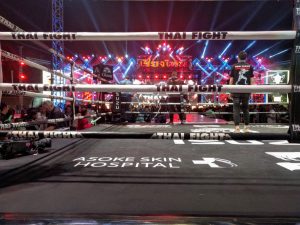 After the fight, I took the opportunity to get up close and see the ring. We had decent seats, only about 6 or 7 rows back, but it was cool to see it up close and personal. It's hard to tell from my pictures, but this was a major production. There were cameras mounted everywhere on robotic arms and the stage was massive. When the fighter is first announced they pop out of the floor of the stage and then make their way to the left side where they bow to a picture of the King of Thailand. They also knee and bow before a Buddhist shrine, though I did notice fighters didn't  always bow to the shrine.
After that the fighter walks down the main bridge high-fiving fans as he goes. Then into the ring. I am posting a video below that shows the whole event in it's entirety. You can just skip around to different parts in the video, if you're interested, to get a sense of the event.
Overall, it was awesome to get to see one of Thailand's legendary fighters even if it was mostly for show. There were some real solid matches throughout the night, and for free you can't beat it! It's only got me more excited to keep training!
Tomorrow is Christmas and I already have a blog post planned to fill you in all the festivities I've already had and will have tomorrow! God bless your holidays!